Discover the World of Delwires: Passionate Ethical Breeders of Wire Haired Fox Terriers
Are you ready to welcome a furry companion into your life, one full of passion, love, and a touch of mischief? Delwires is your gateway to a world of ethical breeding, dedicated to producing low inbred coefficient Wire Haired Fox Terriers that will capture your heart.
Beyond Ordinary Solutions
Delwires is not your run-of-the-mill breeder. We recognize that we're dealing with nature, and our approach is far from an "Off the shelf solution." We meticulously select a suitable bitch, raised in a loving family environment, and in strict adherence to Lucy's Law Guidelines. This commitment to ethical breeding takes time and care.
Patience Rewarded
Patience is the key when you embark on this journey with us. From the moment a suitable bitch in season is selected, there is a 63 day gestation period before the new puppies arrive, and the litter sizes can vary. Be prepared for a waiting list; it's possible that you may need to exercise some patience before welcoming a Delwires puppy into your life.
The Complete Experience
When you're ready to commit to our program and have had a conversation with us, you'll receive our exclusive Delwires Puppy Pack. This pack is more than just paperwork – it's a treasure trove of advice and information gleaned from years of nurturing Wire Haired Fox Terrier puppies. We're here to support you every step of the way, ensuring that your new companion thrives.
A Reputation to Trust
The "Delwires Community" is known far and wide for its dedication and excellence. Don't just take our word for it; check out our reputation on Facebook, where you can find our thriving community of Delwires Wire Haired Fox Terriers and UK Wire Haired Fox Terriers enthusiasts. Join us in the world of Delwires, where passion, love, and mischief come together in the form of extraordinary Wire Haired Fox Terriers. Check us out on facebook. Delwires Wire Haired Fox Terriers and UK Wire Haired Fox Terriers.
Probably the best Wire Haired Fox Terrier breeders
My name is Stephen, and my lifelong journey with Wire Haired Fox Terriers is a tale filled with heartwarming memories. From the day I was born, my father gifted me my very first Wire Haired Fox Terrier, Nellie. Those 14 unforgettable years were brimming with laughter, adventure, and unwavering companionship.
Nellie's Legacy Lives On
In loving memory of Nellie, we've dedicated a page to her antics and adventures. So, take a moment to explore the heartwarming stories that will make you smile and reminisce.
A WHFT Lover for Over 60 Years
With over six decades of experience as a Wire Haired Fox Terrier owner, I have a piece of advice for those intrigued by this charismatic breed: immerse yourself in knowledge. Dive deep into understanding every facet of the breed and its charming quirks.
Fox Terriers: A World of Unparalleled Charisma
They're an intriguing blend of funny, affectionate, loyal, intelligent, and sometimes, delightfully ignorant. But once you welcome a Fox Terrier into your life, you'll discover why no other breed can quite compare. The journey of a Fox Terrier owner is an exhilarating one, with many surprises yet to be unveiled.
Wire and Smooth Haired: A Tale of Two Personalities
While some may claim the Wire and Smooth Haired Fox Terriers are distinct breeds, the truth is quite the opposite. I've raised and cherished both, and I can attest to their inseparable nature when it comes to temperament, tenacity, and that unique aloofness that only a Fox Terrier can gracefully exude.
A Compact Size with a Heart Full of Love
These small to medium-sized dogs boast a delightful, loving temperament. They relish exercise, though it need not be excessive. What they truly adore is a consistent routine, which brings them a sense of security and contentment.
The Myth of the Non-Shedding Fox Terrier
Contrary to popular belief, Fox Terriers do shed, but it's a manageable affair with light grooming. Notably, their fur is less likely to trigger allergies in people sensitive to dog hair, akin to poodles.
Life with a Fox Terrier: A Never-Ending Party
Fox Terriers thrive at the center of any social gathering, embodying gregariousness, outgoing spirit, and a love for fun. These well-bred, socialized companions will fill your life with boundless love and everlasting joy. You'll never feel alone with a Fox Terrier by your side!
Ready to Dive into the World of Fox Terriers?
The Annual Breed Average inbreeding coefficient for the WHFT is currently 11.7% (Nov 2019). The inbreeding coefficient between Camiro and Amber is 0.
Follow this link to the Kennel Clubs, Coefficient of Inbreeding (COI) calculators for a Kennel Club dogs COI.
Breeding for a low coefficient of inbreeding, also known as COI, involves choosing two dogs that are not closely related genetically. This can be achieved by carefully considering the pedigree of each dog and selecting breeding pairs that have the lowest possible COI.
The COI measures how related two dogs are in a given pedigree. The pedigree is a record of a dog's ancestors, and the COI is calculated by examining how many common ancestors the two dogs share. The higher the COI, the more closely related the two dogs are, and the greater the risk of inherited health problems.
Breeding for a low COI involves identifying dogs with different pedigrees and breeding them together. This means avoiding breeding dogs that are closely related, such as siblings or parent and offspring. Instead, breeders may choose dogs from different lines, so that their pedigrees only overlap slightly.
By breeding for a low COI, breeders can help to reduce the risk of inherited health problems and improve the overall health of the breed. However, it is important to remember that other factors, such as temperament and conformation, should also be considered when selecting breeding pairs.
Follow the link to find out the potential inbreeding coefficient of the pups mating your bitch with Camiro. Enter for the Sire – Camiro Of Assuming Arabesque At Delwires (IMP SRB).
Follow the link to find out the potential inbreeding coefficient of the pups mating your bitch with Jack. Enter for the Sire – Jack Sparrow of WIre Ground at Delwires (IMP PRT).
No mating will be allowed if any potential mating results with puppies which would have an inbred coefficient of above 5%. This decision is based upon 20 years of research carried out by The Institute of Canine Biology on all pedigree breeds. They stated that for the Wire Haired Fox Terrier to have a sustainable healthy population moving into the future, they should never be bred with an Inbred Coefficient above 8%.
All photos used on this site and Facebook page are owned by us and are of our dogs. We have hundreds of photos and videos for you to view, showing the breed in its natual state and represents how the dogs really look in every day life.
38 reviews on
Dealing with Delwires and Stephen Delaney over the last 6 months has been a real pleasure culminating with the arrival of Freddie into our lives last week! Throughout the whole journey Stephen has been unfailing in keeping us involved, well informed , and engaged with the various stages of the puppies development. Freddie -and his family - are well adjusted and bright dogs reflecting Stephen's expertise and knowledge acquired over many years. The puppies have been very well socialised in Stephen's family setting and after only 3 days with us we have felt very relaxed introducing Freddie to friends and family. Also Stephen has been available for any queries we have had . Stephen clearly takes his breeding very seriously and their temperament is a credit to his experience, knowledge and love for the breed. We look forward to meeting up with other Delwires at the August gathering 2024! Yvonne and John Kent
From the outset not long after losing my previous Fox Terrier Teddy, I was aware of Stephen Delaney / Delwires via the UK Fox Terrier website, so without hesitation I made contact with Stephen, it has been a wonderful experience. From the inital interaction with Stephen to collecting my puppy, the advice has been excellent. Delwires are committed to the Fox Terrier breed, Stephen's knowledge is first class, he is fully committed to breeding Fox Terriers with an extremely low inbreeding coefficient, I am now the proud owner of a wonderful Delwires puppy Minnie, it was definitely worth the wait. We have been constantly informed of our puppies progress, from birth up until the day we collected her, regularly receiving pictures and video's and being encouraged to visit the puppy as often as we wanted. I know that further support and advice is available throughout my dogs life, I am very happy to be part of the Delwires family.
Almost a year of being the proud owner of a Delwires Fox Terrier. Stephen Delaney is a font of knowledge on the breed, from first making contact with him to asking a steady stream of questions throughout the year we've owned a dog , he shows real interest and genuine concern about our pet , nothing is too much trouble ( fox terrier excluded!!🐶) Delwires knowledge on this breed is priceless, long may they continue.
Alexandra Haynes
2023-06-28
I feel lucky beyond belief to have Darty, my Delwires wft. She is a total joy. 4 months old now, and she is just a treasure. She received such care and love as a puppy in Hollie's home, and it is wonderful that I can contact Hollie and get advice as well as update her on one of the beautiful litter. This is not my first wft, but her knowledge and is fantastic. I can't wait to attend the annual Delwires walk, despite living 3.5 hours away!
I've followed Delwires for a number of years now. I initially made contact with Stephen around 8 years ago when I privately rehomed a foxie and we had some questions about his pedigree and health situations (he was not a Delwire) and Stephen was amazingly knowledgeable and helpful with our boy. Fast forward a number of years and we decided the time was right for a puppy. I contacted delwires and lo and behold a litter was due….the saint David's day Crew! As you'd expect, we had a lovely long phone call with Stephen talking all this foxie and breeding, what we had to offer a dog and then invited to see the litter. Mummy narla, living with Hollie, Stephens daughter, was just wonderful. The happiest most chilled out mummy to her litter. She was super friendly, happy to show off her babies and welcomed my young children too as well. She is everything you would want in a mummy. We were encourage to visit multiple times, everything was super easy and never a problem to ring or ask questions or come and visit again. Hollie sent videos and photos most days of our boy and the litter which is amazing as we have so many photos of him right from being 1 day old! She also worked on teaching our boy his name and lots of little handling and recall games, he's only got to hear her voice on old videos and even now he's flying into the room to find her 💜 Rookie is everything we wanted, heathy, bold, social and family orientated. He's a typical foxie and loves water just like his dad! There is no where else to go if you are considering a foxie puppy, need foxie help and support or are looking to rescue as Stephen is avidly involved in rescue networks.
From my first interaction with Stephen at Delwires, I have found him to be informative and hugely passionate about the breed. Prepare to be vetted thoroughly before taking on one of these fabulous dogs! In exchange, you will receive a lifetime of support, reassurance and advice from somebody with expert knowledge of the breed. You may have a wait for a pup - Stephen is committed to breeding dogs with an extremely low inbreeding coefficient and I speak first hand as a proud owner of a wonderful Delwires dog when I say that they are definitely worth the wait!
A 100% dedicated to the breed. We had to undergo a 1 hour telephone interview with Stephen to check not only is a fox terrier the right breed for us, but are we the right type of owner for a fox terriers. We passed of course and have to say our puppy has exceeded our expectations. However, they can be hard work and need lots of exercise.but the time you invest is more than paid back in terms of fun and mischievous in equal measure.
Timothy Farnsworth
2022-09-03
I've known Stephen for about 7 years when I got my first wire haired fox terrier mabel,and went on to mate her with camero one of Stephens stud dogs, and they produced wilfred, he's an amazing dog, Stephen has been brilliant always giving me advice and knowledge on the breed, nothing he doesn't know!
Albert Stratton
2022-09-01
We cannot begin to explain how wonderful Delwires breeder Stephen Delaney & he's family are Stephen's love and knowledge of the breed is astounding. Our Polly is 3 years old this October and is a daughter of Delwires H She is an absolute treasure and joy. She produced 3 stunning pups in January Hugo Ginger & Penny sired by Delwires Jack Sparrow. Stephen has been at the end of the phone to guide me through that experience and if Polly's has a problem he's our first port of call on hand with help and advice so if you are ever thinking of owning a WHFT this is the man you should speak to
I've had the pleasure of meeting Stephen on a number of occasions now. From meeting him on my first delwires walk, in which he truly vetted me, on my capacity to nuture one of his incredible dogs. I'd never say own, this breed truly has a mind of its own. I've found his incredible passion for this breed shines through. A family who lives and breaths this breed.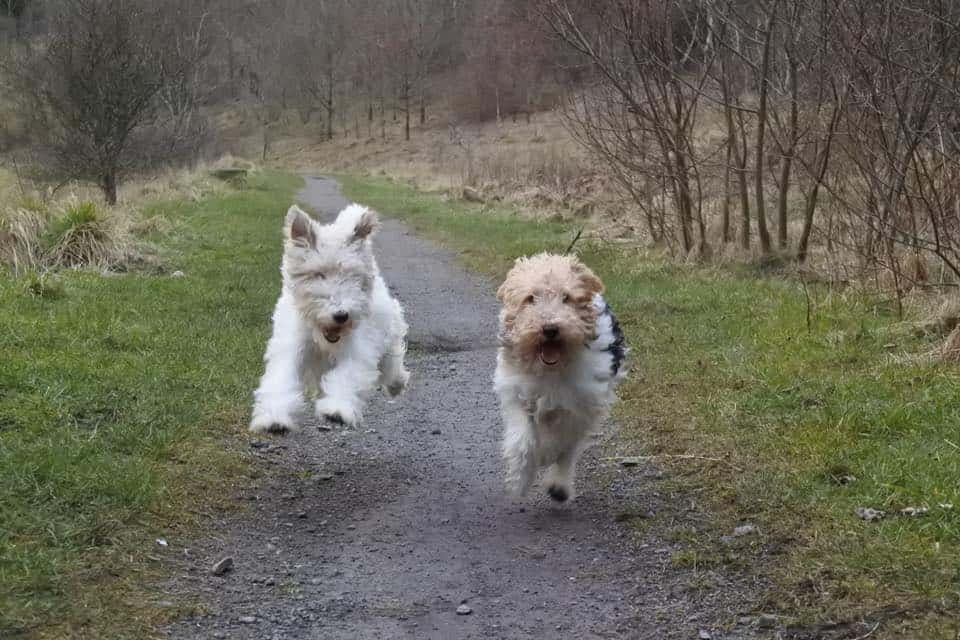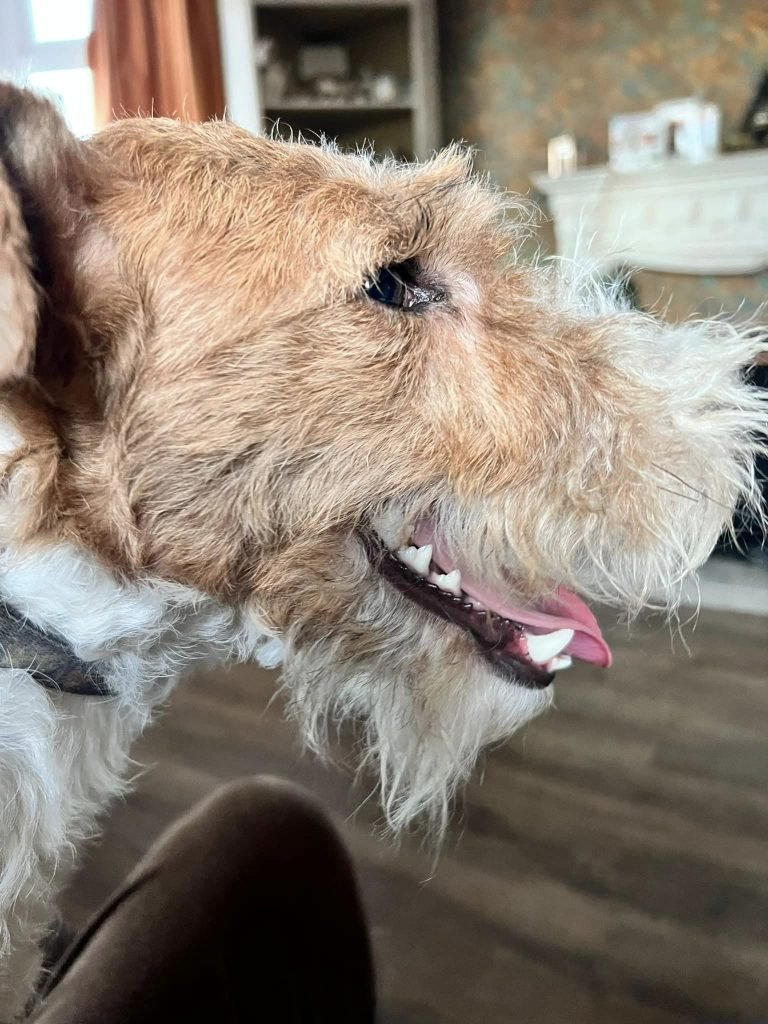 Dealing with Delwires? Never respond to any other email address or telephone number than those stated on this website or our Facebook page the contact details are:
Telephone (Mobile). 0044 (0)7970180157 or (Landline) 0044 (0)1785822861
Or use Email form below in footer.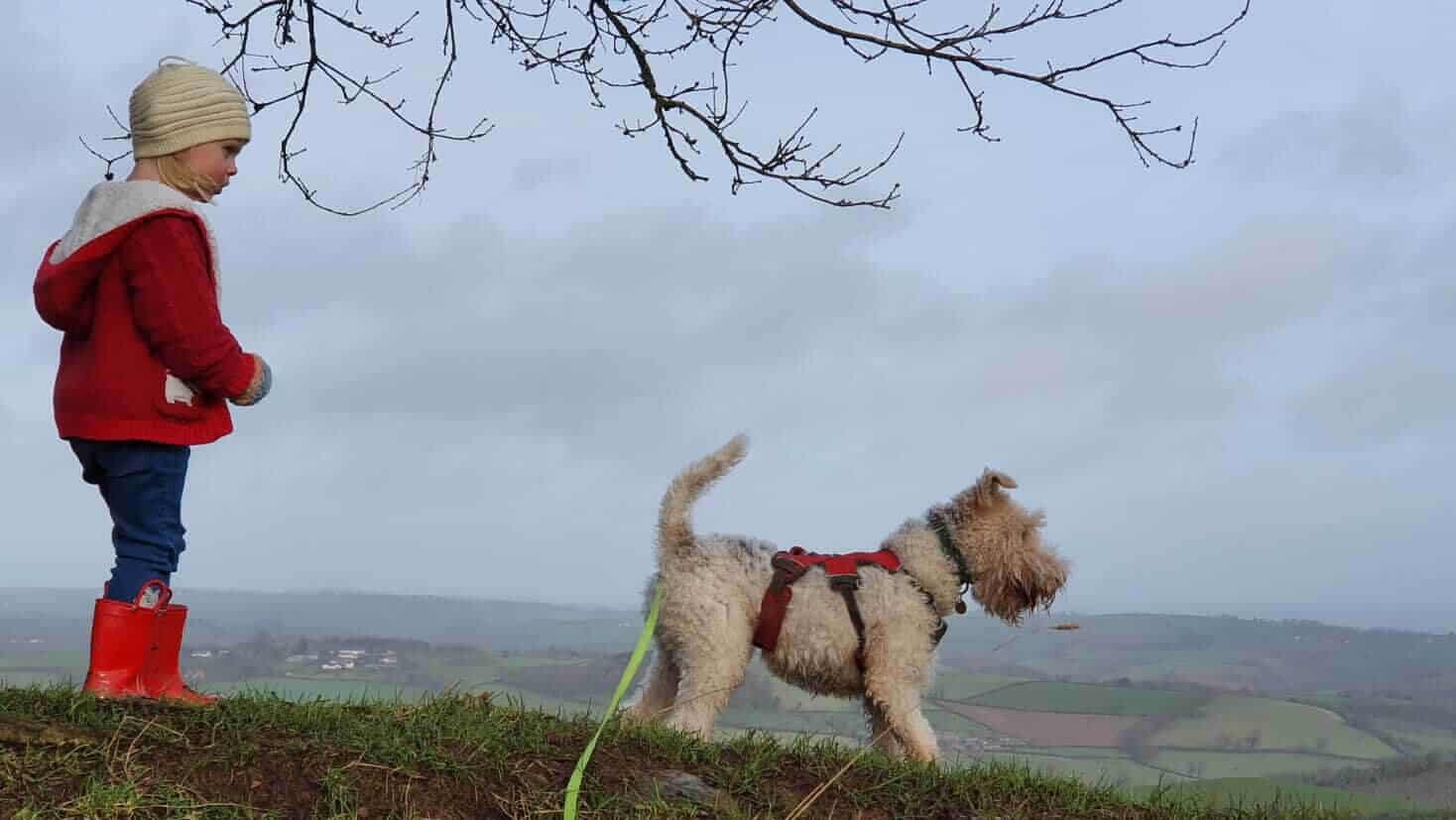 "Jack Sparrow of Wire Ground at Delwires" or Jack as he is affectionally called comes from excellent bloodlines and has been extensively tested for PLL
Read More »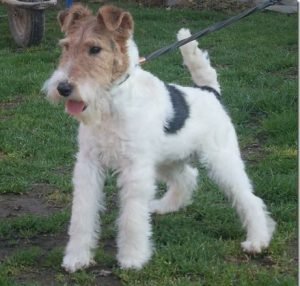 "Camiro of Assuming Arabesque at Delwires" known as "Camiro", Sired by "Danfox Fernando" multi-international champion Denmark, Slovakia, Serbia, Hungry, Austria, Junior Campion of Slovakia, Austria
Read More »